Mobile Car Valeting Neath
Let Fresh Car bring the car wash to you! We can wash your vehicle wherever it is parked! We provide a mobile car valeting service that can come to your home or workplace in Neath and surrounding areas of Neath Port Talbot and Swansea .
Our car cleans are fully customisable, as we have a range of interior and exterior valet packages to choose from with added extras you can request such as dog hair removal. Our valeters are expertly trained and will visit your location in their specially equipped van, which has all the products and kit to give your car a thorough clean both inside and out.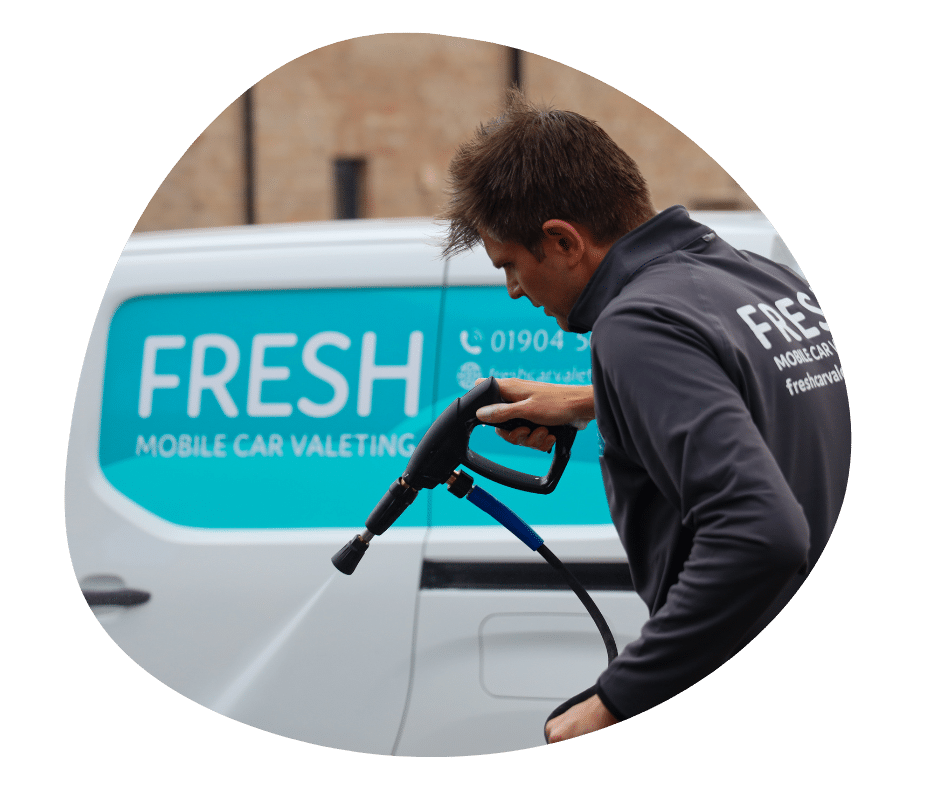 3 Reasons To Choose
Fresh Car
WE COME DIRECT TO YOU
TOP QUALITY & VALUE SERVICE
OVER 50% OF REPEAT CUSTOMERS
We offer a complete mobile cleaning service in Neath direct to your home or workplace. In fact, anywhere your vehicle is parked, we can clean.
Full valets will offer you both interior and exterior cleaning services
Full valets will offer you both interior and exterior cleaning services
Full valets will offer you both interior and exterior cleaning services
Mobile Car Valeting Neath
Welcome to Fresh Car. We provide the best, expert mobile car valeting services all over the UK. We are fully mobile and arrive at a location of your choice at a time that is convenient for you; be it your home, office, gym or anywhere you have in your mind.
So you can call Fresh Car Swansea with assurance you'll get specialized valeting and exemplary customer service. Wehave not developed too much, so fast without a firm emphasis on outdoing our customers' expectations as and when doable and delivering a level of service that our many contended clients inform us they really can't find elsewhere. Our client retention is over 90% so we should be doing something best. Find out for yourself by calling 01792 989 393 and joining Neath's popular band of Fresh Car clients. Your sedan will certainly not have looked better.
EXPERIENCED & FULLY QUALIFIED CAR CLEANING TECHNICIANS
Our mobile car valet technicians are qualified and experienced in car cleaning and detailing. New employees are trained by an expert before we let them loose on your car. We set exacting standards at Fresh Car and we monitor their work thereafter to ensure the excellence of their work meets our level of expertise.
SAFE CAR WASHING METHODS ARE USED TO AVOID DAMAGE
There is nothing worse, we have all heard the horror stories of cars being washed and ending up with addition scratches or bashes; you won't find that here. We use a set of procedures and processes to ensure this will not happen, you are in safe hands.
COMPLETELY INSURED FOR MOBILE VALETING SERVICES
We are insured to clean your car or any of the products and services we provide for you. Your car wont only look shiny and new, you'll know that the people working on it are safely covered to do what they need to do.
PREMIUM CAR VALETING PRODUCTS
We feel the only way to grow the business is to ensure we are using the best valeting products in while doing the job. We use Karcher, Autoglm and Auto Smart as we feel they provide the best results. Our clients seem to love the results we produce for them and tell everyone on Facebook and we post reviews on the website. Hopefully enough to convince you to give us a call on and get your car booked in for a mobile car valet service.
READ OUR CAR VALETING REVIEWS AND FEEDBACK
Still not convinced. Reputation is key when growing this car valeting, detailing and maintenance service around . Try reading the 5-star reviews on the website, or on Facebook where nearly every day someone will be posting. With a bit of luck, they may convince you that we're the company to use. Give us a call on and we can get you booked in.  Please get in touch if you'd like to give your own feedback, we'd love to hear from you.
MINI VALET SERVICE
Whats the Mini Valet service in comparison to other packages? Our mobile Mini Valet is best if you short on time or just wish to tidy up the day-to-day dirt. It'll start with an external wash, getting all mud off the outside of your vehicle before moving to internal clean where we vacuum then clean the door shuts and plastic fascia. Following this we'll buff the windows before moving onto adding special black tyre paint and some of those showroom touches. Click through if you want to know more about what's in the mini valet.
EXTERIOR VALET SERVICE
Maybe you're short of time. Maybe you are just not that untidy. Perhaps your children have rendered even trying to tidy the interior of your car pointless! Whatever your motive for only wanting a clean exterior, you will not find a better outcome anywhere. We possess Simple and Detailed services with a range of optional extras to guarantee you get exactly the finish you wish without paying for anything extra than you require. Treat your vehicle to a mobile valet, tailor your service and remember we supply scratch repair and protective ways to prevent future damage as well as our peerless mobile valeting service. See what's on offer here.
INTERIOR VALET SERVICE
Fresh Car provides two main interior valet packages in but any clean-up can have as many add-on services as you need. When cleaning your vehicle, we use a virucidal disinfecting products when cleaning your car. You may also want to try our Mould Removal & Sanitation package. Optional extras include Seat machine cleaning £15, Fog Sanitisation Treatment, Air conditioning sanitation £20, Mould Removal & Sanitisation £30. Fresh Car on use the best quality products to clean your vehicle. Our team in expertise and experience in interior car cleaning will ensure that your car will be gleaming clean in no time.
FULL VALET SERVICE
Our full valet service covers all elements of the car cleaning process. It takes up to two and a half hours and ideal that deeper clean. Included in this package your paint work tar and other decontaminants will be removed from paintwork. Polish is then sprayed to enhance & protect paintwork. Fabric areas machine cleaned & colour restored. Fabric seats are shampooed, leather seats are cleaned & moisturised. Mats are machine cleaned to ensure all dirt is removed. All exterior plastic surfaces will be dressed back to the original black colour. And all the mini valet features such as the exterior wash, door shuts cleaned, windows buffed, interior vacuumed, plastic areas cleaned, tyre paint added, and your wheels being cleaned come as standard.
If you want, go even further; we provide a Full Valet and Paint Protection package. It takes up to three and a half hours. Here we will enhance your paintwork and keep it protected from the elements. The car will be hand polished with a coat of high-grade carnauba wax applied with extra attention paid to areas of minor scratching. After your tyres have been slicked back to black, we'll use a wax on them to keep that finish for longer. It will make the tyres look great!
We also provide the Signature Valet. It takes up to four and a half hours. It is the valet we're known for, that returns your car to showroom condition. Included in this package that is not in the others is clay bar treatment, a coat of sealant, roof lining cleaning, the steam treatment and special wheel treatment. Beyond this we provide a series of optional extras so you can tailor your valet service so it is perfect for your car and your requirements, and remember, it's entirely at a place in of your choice too.
THE SIMPLE WAY TO RESERVE A VALET
If you want to book a professional mobile car valet in Swansea please use our online booking form, the Fresh app, or call us. You can select from available times and dates and be booked up with us in less than 60 seconds.
JOIN THE CAR CLUB
Have you previously booked with us? If you answered yes, you're in luck because you can join the Car Club and save money on valet services. You'll also have the option of selecting your preferred valeter and knowing that your vehicle is being cared for by someone who knows it inside and out. Sign up and download the Fresh mobile app today!

We offer a complete mobile cleaning service direct to
your home or workplace.
In fact, anywhere your
vehicle is parked, we can clean!
Fresh car club premium packages
Join the Fresh Car Club and we'll love your car as much as you do. With regular valets and discounts off services such as detailing and alloy repairs, your car will be kept in pristine condition.