 Mobile SMART Repairs in Stirling. Includes Car Body, Paintwork Scratches and Dents Removed
Offering a mobile solution in Stirling, Fresh Car specialises in minor car body and paintwork scratch repairs across the Forth Valley. Our team consists of highly skilled SMART repair specialists, capable of addressing various car bodywork and paint damage issues. Whether it's tackling paintwork scratches, bumper scuffs, or conducting minor dent removals, we have a comprehensive range of services. Additionally, we cater to stone chip repairs, paint touch-ups, and the refurbishment of minor alloy wheel damage.
We understand it can seem daunting having to visit a bodyshop and be without your car for days to have your car fixed. That's why our mobile service comes diretly to you to repair paintwork scratches, scuffs and dents. We come to your location – be it Bannockburn, Cowie, Plean, Dunblane, Bridge of Allan, Cambusbarron, Whins of Milton, or any other part of the Stirling area.
Repair Types
We carry out all SMART Repairs (excluding bonnets and roofs) but we do offer machine polishing and touch-ups on all panels including bonnets and roofs.
From £200
Minor dents or bumps can be repaired, filled and painted.
From £180
We provide repairs for paintwork scratches and scuffs. This covers Wings. Doors, Rear 1/4 panels, Tailgates. Sills & A-posts.
From £150
Scuffs and scratches eradicated from the bumper and bumper plastic.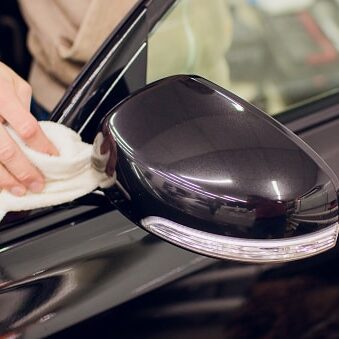 Wing Mirrors & Door Handles
From £150
We can repair damaged car door handles and wing mirrors.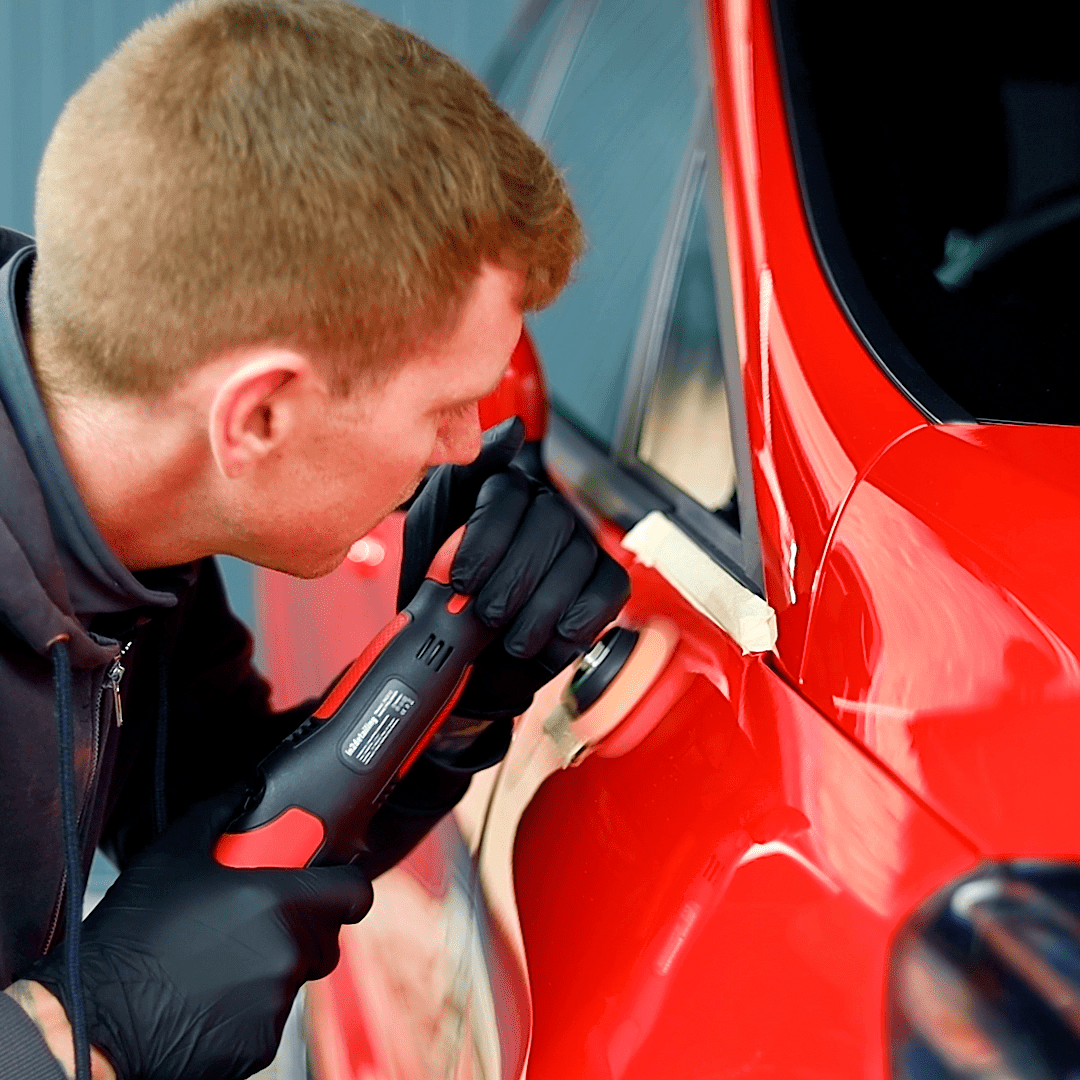 From £50 per panel
We can offer a paint correction service known as machine polishing to remove light scratches and swirls.
From £50 per panel
Paint touch ups for road rash and stone chip repairs caused from loose chippings and grit from the road surface.
What is a SMART Repair and the Benefits?
SMART Repairs stands for Small to Medium Area Repair Technology repairs, and offers you car bodywork and paint damage repairs often for the fraction of the cost of traditional accident repair centres. Our team consists of expert technicians that specialise in minor scratch, dent, and bump repairs, all from the comfort of your home or office. Say goodbye to the inconvenience of visiting a bodyshop; our specially equipped vehicles and tools revolutionise convenience by bringing the bodyshop experience to your home. Our quick service assures outstanding repairs in a matter of hours, all backed by a lifetime guarantee that gives you peace of mind.
Expert Paint Colour Matching
Fresh Car excels in faultless repairs due to our skill in paint colour matching. We offer accurate colour matching for any paint finish to factory paint specifications using cutting-edge technology. Trust our SMART repair service to restore your vehicle's appearance and remove any obvious traces of damage.
End of Lease Repairs
Fresh Car can help as your vehicle lease period comes to an end. Our car body and paintwork repair services are designed to assist you fulfil the standards of leasing and loan companies. We understand the importance of keeping the appearance of your vehicle like new, and our trustworthy and high-quality end-of-lease repairs ensure that your vehicle returns in excellent condition.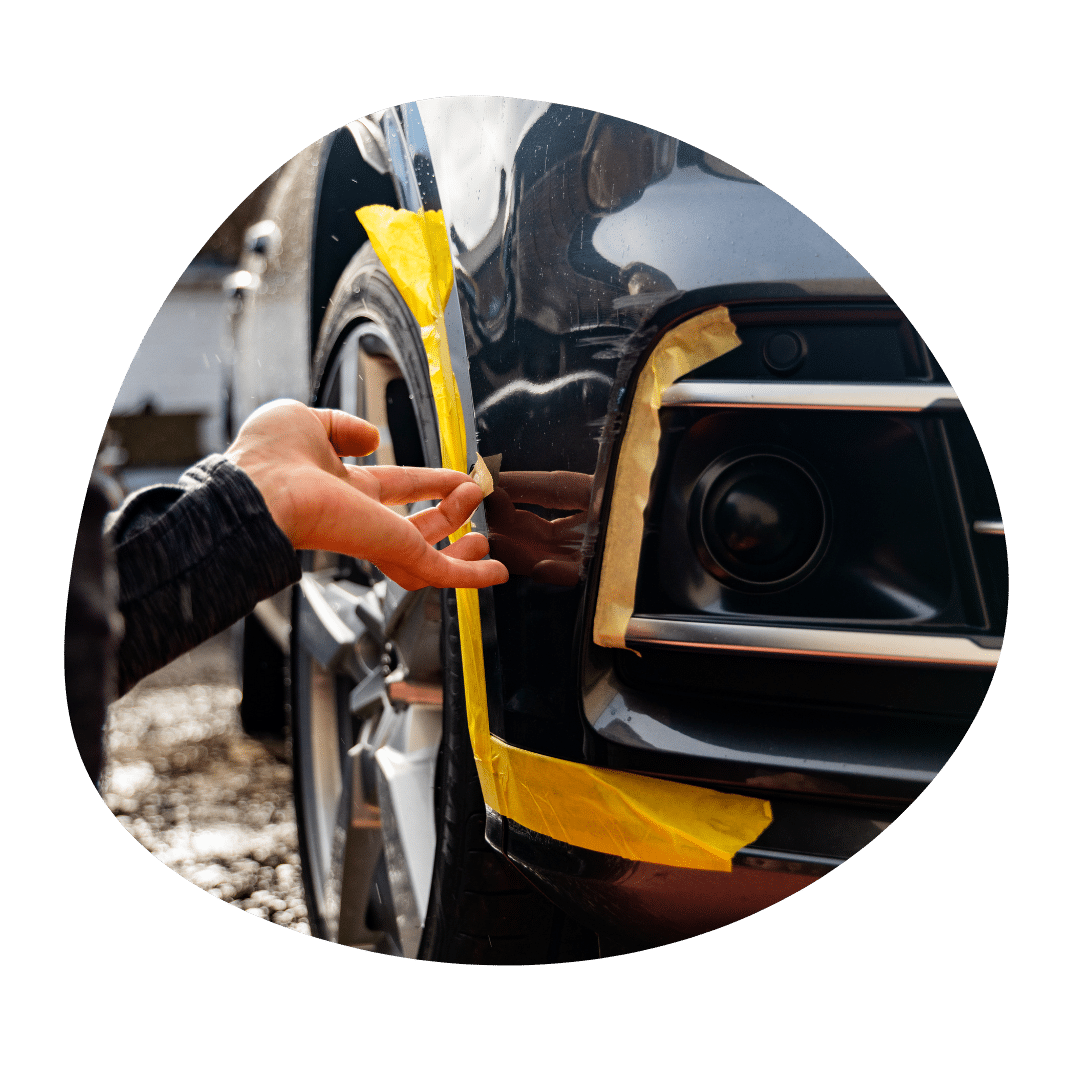 There are 7 steps and processes we follow when undertaking a SMART Repair. This process is for every job we carry out, big or small. The steps are as follows:
Step 1 - Damage assessment and surface cleaning
Step 2 - Surface Preparation
Step 3 - Masking
Step 4 - Application of primer
Step 5 - Sanding of primer
Step 6 - Paint application
Step 7 - Paint correction and finishing
We're trusted by over 30,000 customers to look after their vehicles. Our customers benefit from a fantastic local service and a trusted nationwide brand rated 4.9* by over 4,000 customers.
Our Recent Work
Discover our quality SMART repairs for minor car body damage - delivered straight to your doorstep! Browse through some of our recent work completed for satisfied customers throughout the UK.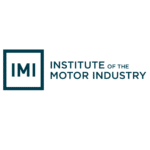 Are you intersted in being part of the Fresh Car SMART team.
Start your own business with a SMART Auto Repairs franchise opportunity that guarantees income on month one, with the option of being 100% funded by a government funding scheme!
Smart auto repairs  - Stirling
You can choose from paintwork scratches, minor dent removal, bumper scuff and alloy wheel repair services.  Simply request a quote for more details.
A full list of all our mobile car valeting services can be found on the Stirling valeting services page.
Stirling SMART Car Repairs | Fresh Mobile Solutions
Welcome to Fresh Car SMART Repairs – Your Ultimate Stirling Solution for Vehicle Restoration
Are you seeking top-tier SMART car repairs in Stirling? Look no further than Fresh Car SMART Repairs, your go-to destination for restoring your vehicle like new. Our mobile service brings convenience and excellence directly to your doorstep, eliminating the hassle of lengthy visits to traditional bodyshops.
Expert Stirling SMART Repair Technicians at Your Service
At Fresh Car SMART Repairs, we take pride in our team of expert technicians dedicated to delivering exceptional results. Our Stirling SMART repair specialists are well-versed in addressing a variety of imperfections, from minor paint scratches to dents and wheel scuffs. With our advanced techniques and state-of-the-art tools, we ensure your vehicle is restored to its former glory.
Revolutionizing Vehicle Restoration in Stirling
Experience Convenience and Excellence with Fresh Car's SMART Repairs
Say goodbye to the inconvenience of finding a repair shop and waiting days for your car to be repaired. Fresh Car SMART Repairs brings revolutionary mobile solutions to Stirling, making vehicle restoration a breeze. Our team of skilled technicians arrives at your preferred location, equipped with the latest tools and expertise to handle paint imperfections, minor dents, bumper scuffs, and even alloy wheel repairs.
Say Goodbye to Imperfections – Stirling SMART Repairs
Unmatched Stirling SMART Repairs for Paint, Dents, and Wheels
Restore your vehicle's charm with Fresh Car's unmatched Stirling SMART repair services. Our skilled team specialises in rectifying unsightly paint scratches, dings, and minor dents that can mar your car's appearance. We also excel in addressing alloy wheel damage, ensuring every aspect of your vehicle shines like new.
Stirling's Finest SMART Repair Service – Your Car's Makeover Destination
Reimagine Your Vehicle's Appearance with Fresh Car SMART Repairs
Experience a complete transformation for your vehicle's appearance with Stirling's finest SMART repair service. Fresh Car SMART Repairs is your destination for a full car makeover. From addressing paint imperfections to enhancing wheel aesthetics, we leave no stone unturned in revitalising your vehicle.
On-Demand Stirling SMART Repairs – Convenience Redefined
Bringing Cutting-Edge SMART Repair Tools to Your Doorstep in Stirling
Gone are the days of inconvenience and waiting. Fresh Car SMART Repairs introduces on-demand SMART repair services to Stirling, revolutionising the way vehicle repairs are done. Our mobile service brings cutting-edge tools and techniques right to your doorstep, ensuring your vehicle receives the attention it deserves without disrupting your schedule.
Customer Happiness is Our Drive – Top Stirling SMART Repairs
Elevate Your Driving Experience with Fresh Car's Stirling SMART Repairs
At Fresh Car SMART Repairs, customer satisfaction drives everything we do. We understand the emotional connection you have with your vehicle, and our Stirling SMART repair services are designed to elevate your driving experience. With our meticulous attention to detail, we ensure that your car not only looks its best but also reflects your pride as an owner.
Flawless Shine Inside and Out – Stirling Mobile Car Valeting
Revitalize Your Vehicle with Stirling's Mobile Car Valeting by Fresh Car Valeting
Fresh Car SMART Repairs offers more than just exterior repairs – we also specialize in refreshing your vehicle's interior and exterior through our mobile car valeting services in Stirling. Our skilled valeting team pays attention to every nook and cranny, ensuring your car emerges not only flawless on the outside but also impeccably clean and fresh on the inside.
Choose Excellence – Stirling SMART Car Repairs by Fresh Car
Elevate Your Stirling Car's Appeal with Unsurpassed SMART Repairs
When it comes to SMART car repairs in Stirling, choose nothing but excellence. Fresh Car SMART Repairs is committed to delivering top-notch results, unmatched convenience, and a rejuvenated look for your vehicle. Whether it's scratches, dings, scuffs, or paint damage, we're here to bring your car's appeal to new heights.
Transform Your Car's Story – Stirling SMART Repairs by Fresh Car
Embrace a New Look for Your Stirling Car with Our SMART Repairs
Give your car a new lease of life with Fresh Car SMART Repairs. Our transformative SMART repair services are designed to transform your car's story. We take pride in restoring its aesthetic value, erasing imperfections, and giving you the joy of driving a vehicle that looks as good as new.
Get Your Free Quote Today – Stirling SMART Repairs by Fresh Car
Ready to get your car fixed? Request Your FREE Quote Now
Experience the Fresh Car SMART Repairs difference in Stirling today. Request your free quote and discover how we can revitalise your car's appearance, boost its value, and bring a smile to your face as you hit the road with renewed confidence.