Mobile Car Valeting Newcastle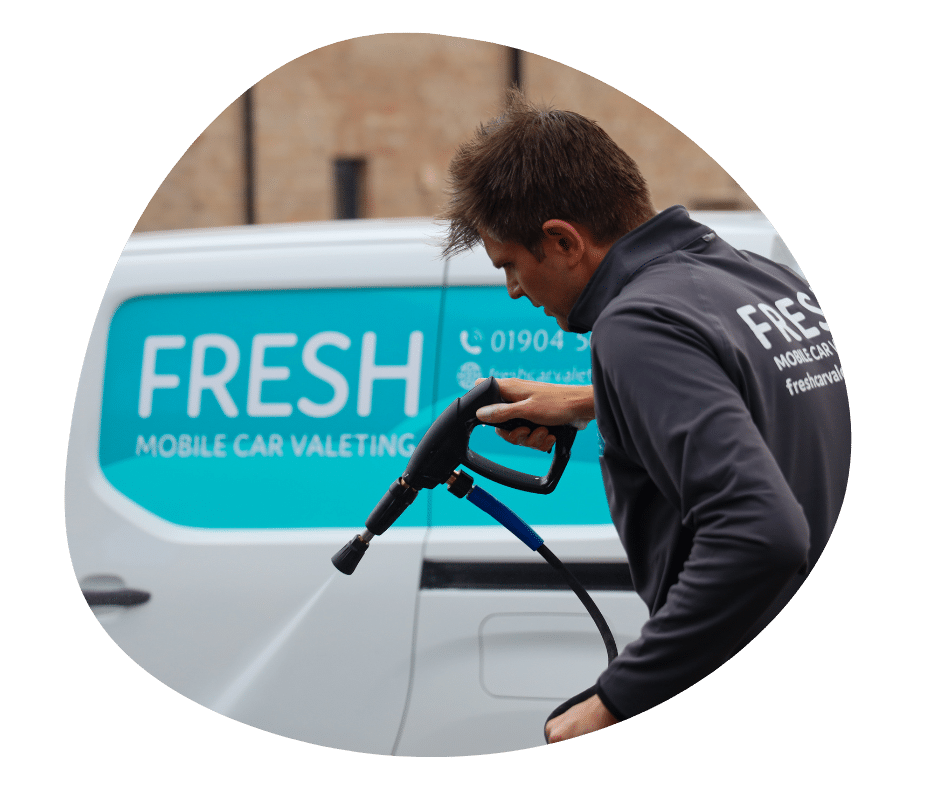 Welcome to Fresh Car, Newcastle's mobile car care professionals. We offer everything from car valeting to detailing services such as ceramic coating, machine polishing, and stone chip repair.
Allow one of our expert mobile valeters to clean your car inside and out with one of our car valet packages anywhere in the Tyne and Wear district. We can come right to your door, whether at home or in the office.
We offer a full mobile car wash and detailing service throughout the Newcastle Upon Tyne and Tyne and Wear area, including Gosforth, Kenton, Elswick, Wallsend, Gateshead, Felling, Newburn, Seghill, Backworth, Cramlington, North Shields, Rowlands Gill, Jarrow, Seaton Delaval, Burnopfield, Washington, Whitley Bay, South Shields, and Hartley.
We also provide a car body repair service for all your scatches and dents in the Newcastle area.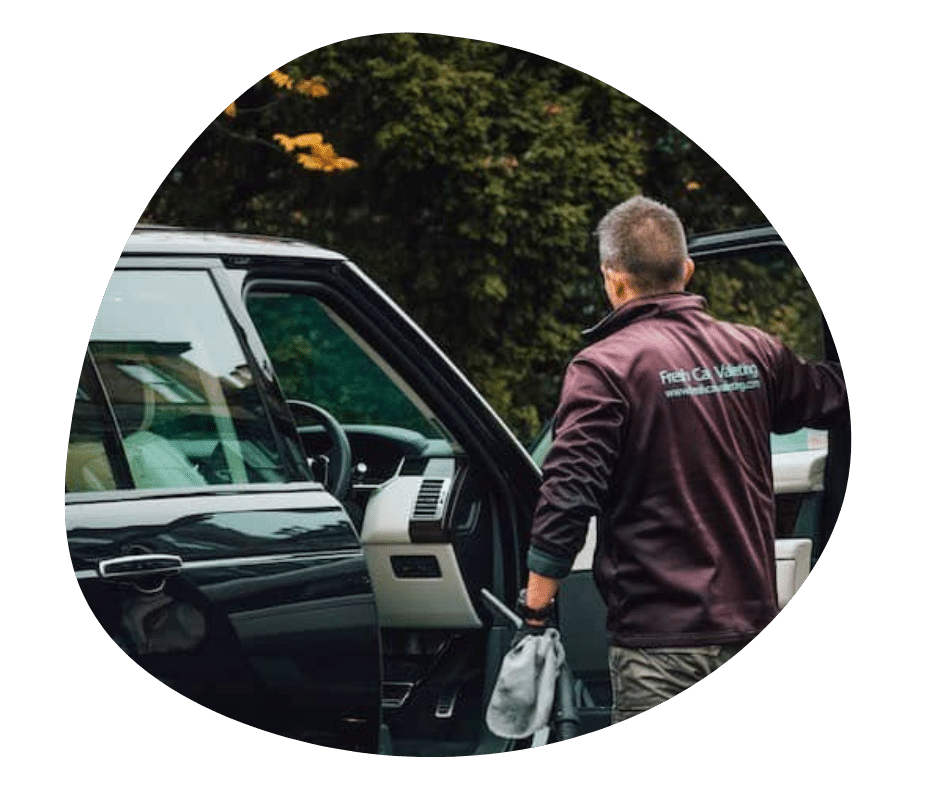 Packages start with a 1hr Mini Valet up to our 4.5hr Signature Valet.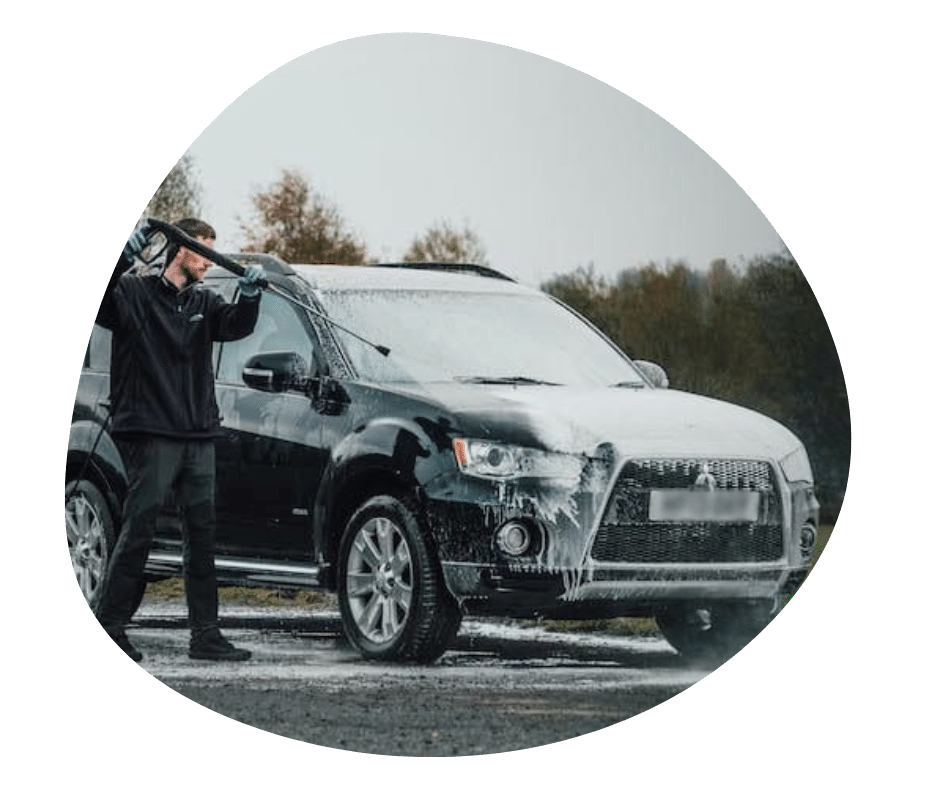 Choose from basic safe wash to detailed 3hr enhanced protection.
Choose a standard or deep clean to restore the inside of your car to its former glory.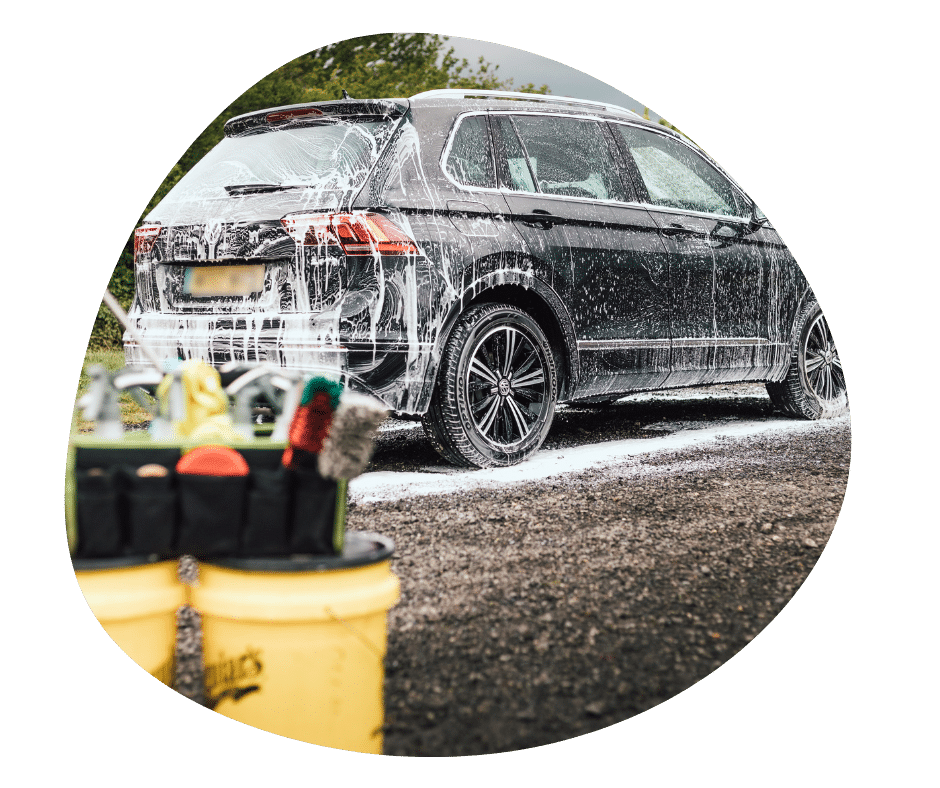 Trusted customers across the UK...
and growing every day!​
Fresh Car provides mobile car care services directly to your home or office and over 60% of our customers return to book another valet.
Mobile Car Valeting Newcastle
Welcome to Fresh Car. We provide premium, mobile car valeting services throughout the north east of England and Newcastle upon Tyne. We are completely adaptable and will arrive at a location of your choice at a time that is convenient for you, whether it is your home, workplace, sports centre, or any other site you have in mind. Regardless of where you or your vehicle is, Fresh Car can come straight to you and perform an exceptional mobile car valet both inside and out.
We are incredibly pleased to have been recognised for our great service, and we always put our customers first. We would be delighted to look after your vehicle, whether for a mini valet or a full valet, and you will receive the same level of expertise and attention. Take a peek at our online reviews to see why we have an average rating of 4.9 stars from our existing clients. Call our Fresh Car customer service team on 01917430220 to make a reservation with your local valeter in Newcastle.
HOW FRESH CAR STARTED
Sam Brennan founded Fresh Car in 2016 as part of a university project. The inspiration for converting this idea into a full-time business was a love of cars and an entrepreneurial mentality. Over time, a team of 15 people was formed, but it became clear that everyone was looking for more. It was at this point that the decision was taken to begin franchising and provide individuals the opportunity to establish and manage their own businesses with their own clients. We now operate throughout the United Kingdom and are happy to provide valeting services in over 80 cities, including Newcastle.
ONLINE REVIEWS
At Fresh, we take great pride in the way people perceive us online. 4.9 out of 5 stars is an incredible rating that we have received from all internet review sites. The positive feedback from our customers demonstrates a high caliber of service. Discover why we have so many repeat custom when you book your next valet service with us.
FULLY TRAINED VALETERS
Your car will be in safe hands when getting a clean from one of our fully qualified valeters. Our standards are extremely high, and we make sure all our franchisees are professionally trained before allowing them to clean vehicles on their own. At Fresh we also ensure our mobile car care professionals go through refresher courses, so they'll always be up to date with the latest car wash methods. Our aim is to leave you completely satisfied and looking forward to your next visit from your favourite valeter.
SAFE WASH METHODS
There's no need to worry about any scratches or swirls when having your car cleaned by a Fresh Car valeter, because we train our franchisees to be proficient in safe wash methods. Our professional car care specialists come with all the required equipment to effectively and safely wash your car. The techniques used will ensure your vehicle has that perfect finish and has the best chance of staying in showroom condition.
VALETING SERVICES AND INSURANCE
We are covered by insurance if we clean your vehicle or offer you any other goods or services. Not only will your car look brand-new, but you'll also feel safer knowing that anyone working on it is properly protected.
TOP CAR CLEANING PRODUCTS
Fresh Car is the company for you if you want a company that only uses the best car valeting and detailing products. We only use high-quality products such as Auto Smart, Karcher, and Autoglym. We want all cars to shine and look their best.
MAKING A BOOKING
In the Newcastle upon Tyne area we are proud to offer our mobile car care service. We provide exterior and interior valet packages to suit your needs. To book your vehicle in for a clean, contact us by phone or book online through the website or mobile app.
THE FRESH CAR CLUB 
Keeping your car clean has never been this easy. Choose one of our Fresh Car Club packages to receive regular valets, instead of booking them individually. When you join you can save up to 20% on valets, on dates and times that suit you, with your preferred Fresh Car valeter. If you are an existing customer, you meet the requirements to join and can start reaping the benefits of your discounted valets through our Fresh Car app today.
MINI VALET
The Mini Valet package is the fastest one we provide. It includes an exterior car wash to remove grime from the outside before vacuuming the interior and cleaning out the door shuts, pockets, and plastic surrounds. It is perfect for a quick clean. The windscreens will then be cleaned and polished before the finishing touches of applying black tyre paint to give the car that "brand new" appearance.
INTERIOR VALET
Does the interior of your car require a spruce up? A thorough interior clean will be just what you need, whether there are crumbs all over the place or leaves inside the vehicle. Depending on how dirty your automobile is, you can select between a normal or deep inside clean. We provide extras that you may add on top of our interior valeting services, such as a seat machine clean or mould eradication and sanitisation. Your car's interior will be brought back to its former beauty by our skilled mobile auto care specialists.
FULL VALET OPTIONS
Fresh Car offers three different types of full valeting packages. What results do you get? They all start with what you'd get with the Mini Valet Service, but with a deeper clean. The standard full valet service can take up to 2.5 hours. This package includes the removal of tar and other decontaminants from your paintwork. The polish is then sprayed on to enhance and protect the paintwork. Fabric areas were machine cleaned and the colour was restored. We'll clean the mats and restore the original colour to all exterior plastic areas. All standard mini valet services, such as the exterior wash, door shuts cleaned, windows buffed, interior vacuumed, plastic areas cleaned, tyre paint added, and wheels cleaned, are included.
Our second full valet service can take up to three and a half hours. We will enhance your paintwork and protect it from the elements here. The car will be hand polished and a coat of high-grade carnauba wax will be applied, with special attention paid to minor scratching. We'll apply a coat of wax to your tyres after they've been slicked back to their original black colour. It will keep the tyres looking slick for even longer!
We also offer a Signature Valet. It can take up to four and a half hours to complete. It is our renowned valet service that restores your vehicle to showroom condition. This package includes clay bar treatment, a coat of sealant, roof lining cleaning, steam treatment, and special wheel treatment, which are not included in the other valet packages. Aside from that, we offer a variety of optional extras to help you tailor your valet service to your car and your needs, and remember, it's all done at a location of your choosing.