Mobile Car Valeting Nottingham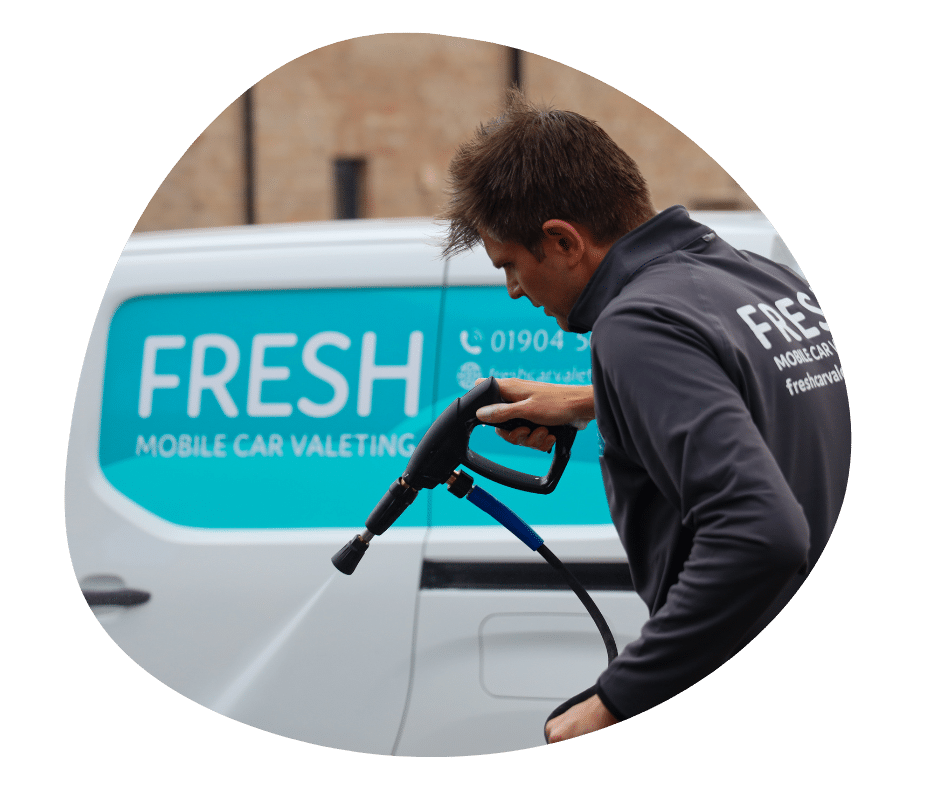 In Nottingham and the Midlands, we should be your first choice for mobile car valeting. In addition to exterior and interior car washing, full valet packages, and detailing services like machine polishing and ceramic coating, there are also paint protection add-ons.
We are able to drive our purpose built vans right up to your door, no matter where you are parked. We come to you, whether it's at your apartment, home, or place of employment.
Join more than 30,000 happy UK customers who have already used our mobile car wash and detailing services.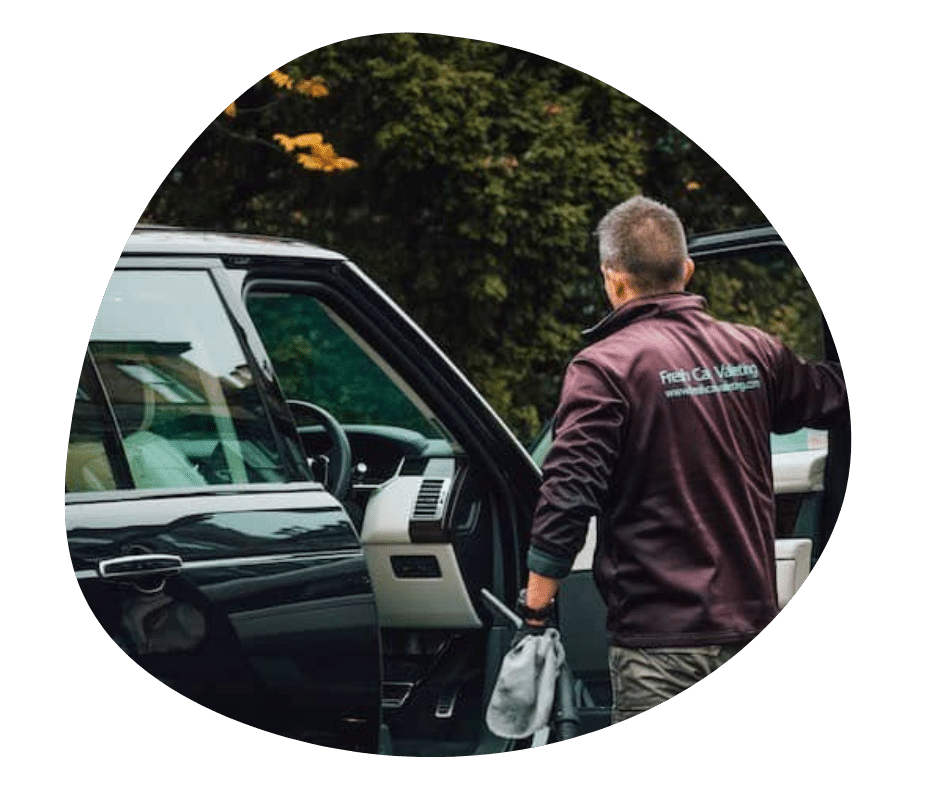 Packages start with a 1hr Mini Valet up to our 4.5hr Signature Valet.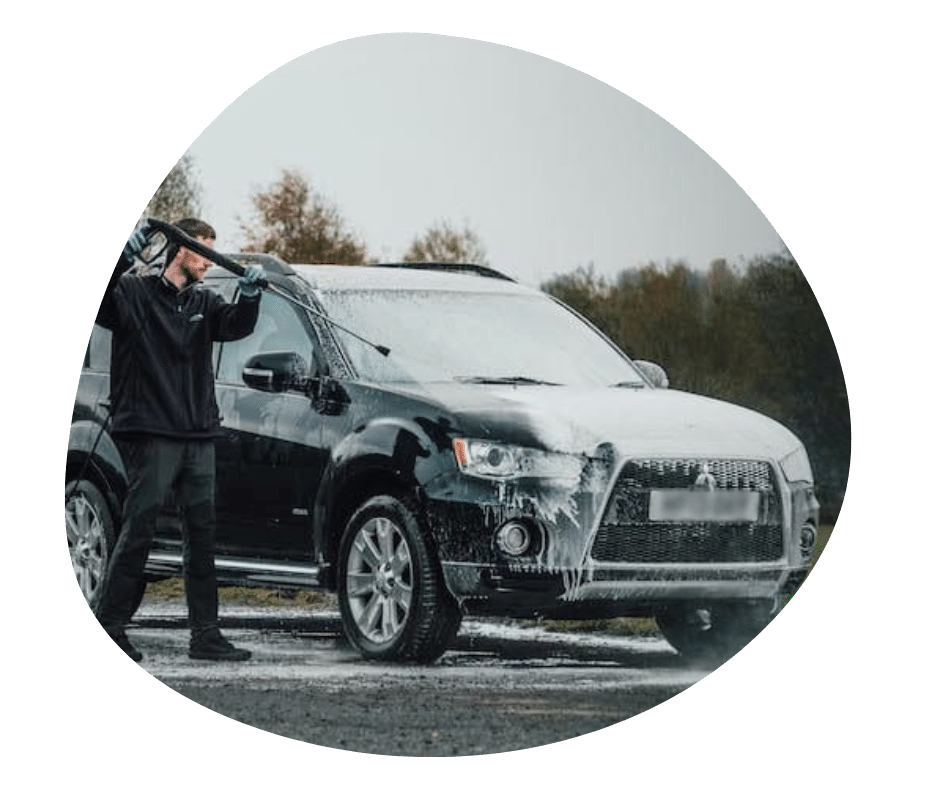 Choose from basic safe wash to detailed 3hr enhanced protection.
Choose a standard or deep clean to restore the inside of your car to its former glory.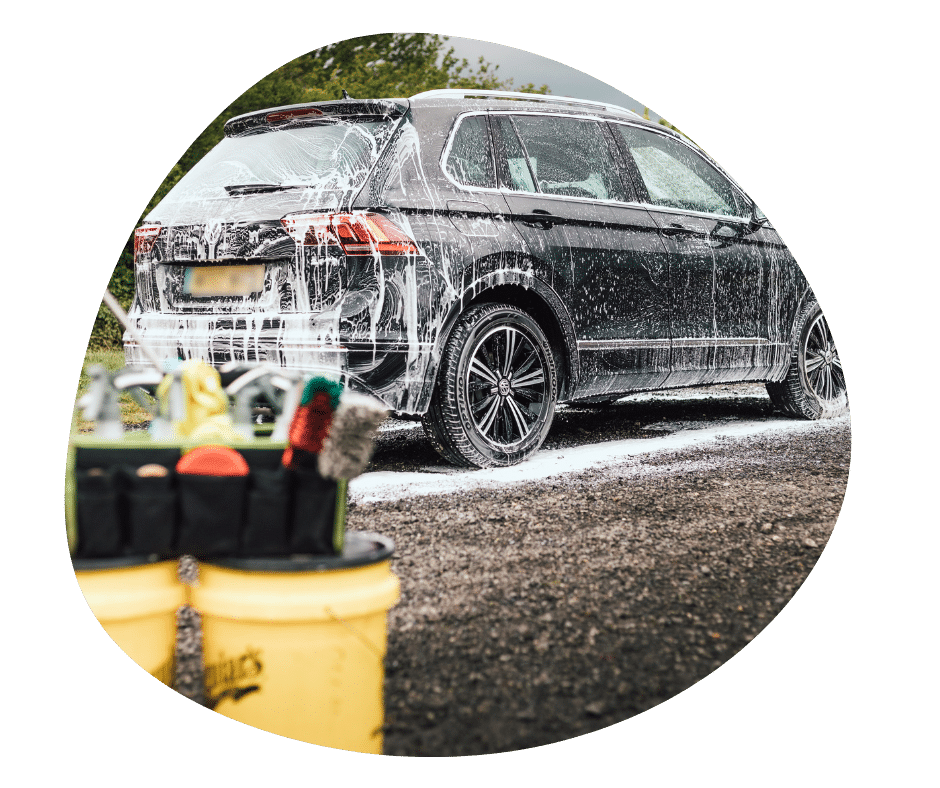 Trusted customers across the UK...
and growing every day!​
Fresh Car provides mobile car care services directly to your home or office and over 60% of our customers return to book another valet.
Mobile Car Valeting Nottingham
Here at Fresh Car, welcome. We provide premium, highly skilled mobile car valeting services. all around the Nottingham area including outlying towns like Arnold, Carlton, West Bridgeford, Bramcote, Lambley, Ilkeston, Calverton, Heanor, Radcliffe On Trent and Long Eaton.
We also now provide a specific car detailing service in the Nottingham and East Midlands area.
We are completely flexible and arrive at a location of your preference at a time which appropriate for you; be it your residence, workplace, gym or any other place you have in your mind.
You can put your trust in Fresh Car because they provide professional valeting. We are committed to exceeding our customers' expectations and going above and beyond for them. Over half of our customers come back to us frequently to have their cars detailed by their "preferred valeter." To ensure that your car is free of dings and swirls, all of our car care specialists have undergone extensive training in safe washing techniques. To schedule a valet in the Nottingham and East Midlands district, get in touch with our friendly team by phoning 0115 671 3696.
ABOUT US
Our history is built on our passion for cars and delivering superior service. After following this passion with a university project, Sam founded his own premium mobile car valeting business. Four years after starting the company, Fresh had over 10,000 customers in Scotland and the franchise model was launched throughout the UK. We are dedicated to providing professional car cleaning services to customers in the city of Nottingham.
OUR VALETERS
When your car is your pride and joy, you want to make sure it gets the care and attention it deserves. We ensure our valeters are put through an intensive training course to learn the very best in car cleaning techniques. Our valeters are taught by some of the best in our business who take great pride in their work, and make sure customer satisfaction is their number one priority. A mobile valet from a Fresh car care professional will leave your vehicle looking in top condition.
OUR REPUTATION
At Fresh we are extremely proud of our online reputation. We have scored an amazing 4.9 out of 5 stars across all online review platforms. The customer testimonials prove that we are trustworthy, hardworking, and deliver exceptional service. Book your next valet with us and find out why we have so many returning customers.
SAFE WASH METHODS
There's no need to worry about any scratches or swirls when having your car cleaned by a Fresh Car valeter, because we train our franchisees to be proficient in safe wash methods. Our professional car care specialists come with all the required equipment to effectively and safely wash your car. The techniques used will ensure your vehicle has that perfect finish and has the best chance of staying in showroom condition.
FULLY INSURED
We are insured for valeting, detailing and paint touch-ups, maintenance, and all other services. So you can put your mind at ease if the worst happens and something goes wrong you're covered.
EXTERIOR CLEANS
Whatever your motivation for merely wanting a spotless exterior, Fresh Car is the sole place to go for the best mobile car care. In order to make sure you receive exactly what you want without having to pay for anything you don't need, we provide Simple and Detailed washes with a variety of optional extras. Treat your car to a mobile valet, personalise your service, and keep in mind that in addition to our unmatched mobile valeting service, we also provide scratch repair and preventative measures to stop additional damage.
MINI VALETS
A mini valet is ideal for you who want a high-quality day-to-day clean on your car. It might be called 'mini' but it still involves a full professional clean, albeit with some limitations. This package involves an exterior wash, hoover, windows buffed, plastics cleaned, and tyres dressed. We guarantee your vehicle will be looking great afterward.
A FULL VALET
We provide three different comprehensive valeting services. The typical full valet process can take up to 2.5 hours. After removing tar and other pollutants from the paintwork, a shine will be sprayed to protect it. Fabric sections receive a machine clean, shampoo, and moisturise. The mats will be cleaned, and all of the external plastic will be restored to its original colour. All the typical mini valet services, including external washing, cleaning of door shuts and windows, inside vacuuming, cleaning of plastic areas, adding of tyre paint, and cleaning of your wheels, are included as normal.
Up to three and a half hours are required for our second full valet package. We will enhance your paintwork and preserve it from the elements with our enhanced package. Your car will be manually polished, and then a layer of premium carnauba wax will be applied, paying special attention to any tiny scratching. Your tyres will be waxed after being restored to their original black colour to prolong the life of the finish. The tyres will stay looking terrific for longer as a result!
Signature Valet is the third package we provide. Up to four and a half hours are needed. Our renowned valet service brings your car back to showroom standards. The clay bar treatment, a layer of sealant, cleaning of the roof lining, the steam treatment, and special wheel treatment are all included in this package but are not in the others. In addition, we provide a good number of add-ons so you can customise your valet service to be ideal for your vehicle and your needs. Remember, your valet is at a location of your choice as well.
THE EASY WAY TO BOOK A VALET
If you would like to book a professional mobile car valet in Nottingham, you can do so via our online booking form, through the Fresh app, or by calling us. You can select from available dates and times that suit you and be fully booked with us in under 60 seconds.
RECEIVE DISCOUNTS WHEN YOU JOIN THE CAR CLUB
Have you booked with us before? If the answer is yes, then you're in luck and you can join the Car Club to get money off valet packages. You'll also benefit from being able to choose your favourite valeter and can rest assured that your car is being taken care of by someone who knows it inside out. Download the Fresh mobile app and sign up today!